---
Over the last couple of months I'd noticed a strange message which appeared at boot time:
error: out of memory.
Press any key to continue...
Up until now I hadn't had to do anything except let the system sit for a few seconds as it would appear to 'self-correct' and boot me into Ubuntu 22.04. Today I experienced a different issue where my zfs root partition will not mount and I'm dropped to a busybox shell and left to wonder what went wrong?
Begin: Running /scripts/local-premount ... done.
[    8.710953] ZFS: Loaded module v2.1.5-1ubuntu6, ZFS pool version 5000, ZFS filesystem version 5
Begin: Importing ZFS root pool 'rpool' ... Begin: Importing pool 'rpool' using defaults ... Failure: 126
Begin: Importing pool 'rpool' using cachefile. ... Failure: 126

Command /sbin/zpool import -c /etc/zfs/zpool.cache -N   'rpool'
Message: /init: line 256: /sbin/zpool: Text file busy
Error: 126

Failed to import pool 'rpool'.
Manually import the pool and exit.
When I try to directly re-run the zpool command above, I get a Text File Busy error, which is entirely unhelpful...
(initramfs) /sbin/zpool import -c /etc/zfs/zpool.cache -N   'rpool'
Message: /init: line 256: /sbin/zpool: Text file busy
Error: 126
Eventually I was able to find the solution to my boot issue.
References
System Configuration
AMD 7950X3D
192GB RAM
Gigabyte X670 AORUS ELITE AX (rev. 1.0)
3440x1440 widescreen display
Ubuntu 22.04
Kernel 5.19.0-50
Troubleshooting
I spent a couple of hours trying to investigate why zpool would fail in such a strange way (ETXTBSY signal) which yielded essentially no helpful information... With that path blocked I wondered if the 'out of memory' error I'd been seeing had anything to do with the issue. Upon investigation, I found that even though I have 192GB RAM there is likely an issue with the 'lower addressable RAM' filling up. This is largely due to loading NVIDIA drivers (as I have both an RTX 4090 and a RTX 6000 ADA installed).
The recommended solution involved me updating the grub gfxmode to 800x600 to 'free up' lower-addressable RAM space . This allowed me to successfully boot my system. Interestingly enough... after rebooting and performing an 'apt-get upgrade' a new kernel dropped (6.2, seemingly an 'upgrade' from the 5.19 base I had been running previously...) and this kernel does NOT require the gfxmode work-around to boot correctly. I no longer see any 'out of memory' errors and the zfs root volume mounts without errors or troubles.
Unfortunately, this spurred a new issue where anytime I clicked on a window or title bar in gnome that the entire screen would flash white. To address this issue I had to adjust the VRAM allocated to the Integrated Graphics Processor (IGP), which was a bit complicated. However, once I adjusted the bios this fixed the flashing white screen issue
Work-around Steps
Boot to grub
Press e to edit the kernel boot parameters
On the gfxmode line, change it to this:
Press F10 to boot the system using this kernel option
I performed a system update and reboot at this point, which landed me a new kernel which does not have this issue:
apt update && sudo apt upgrade -y
sudo shutdown -r now
To address the flashing white screen issue, I had to go to the Gigabyte BIOS. Here's a screencap of the specific settings I had to change: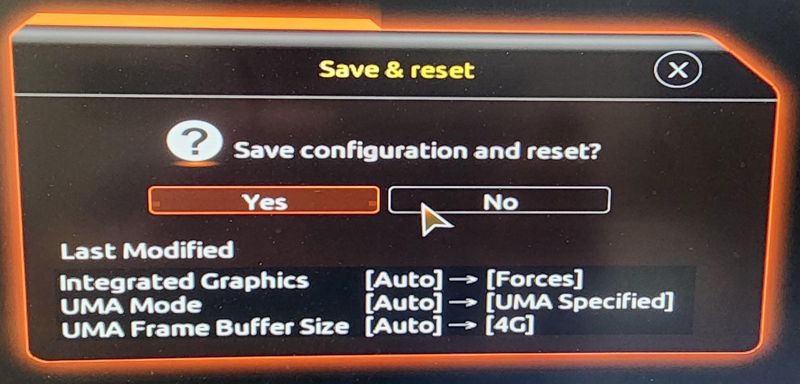 Forcing the VRAM to 4GB ensures the flashing goes away for now...
Final Thoughts
It's been awhile since I've built and operated a 'desktop' system. While the performance is undeniable, it is frustrating to have to go through exercises like this to tune the bugs out of a system. Generally speaking my Linux laptops have been fairly trouble free for the last 10 years. Hopefully this is the last of the ghosts to excise for now!