---
We use various flavors of Agile where I work. In order for these systems to work, everyone has to estimate the amount of work they can get done in the next time block (sprint). Unfortunately, we have seen many issues where people have not properly estimated their time. One big problem is that nobody checks their calendar before comitting to get a certain amount of wok done.
To combat this problem I put together a java application that interacts with Microsoft Exchange and can calculate the time you have available after accounting for meetings scheduled on your work calendar. This CLI tool is called: jCalendarView. Source code and binary is available after the jump.
References
How it works
Microsoft provides a Java API for MS Exchange Web Services (Outlook web services). This makes it very easy to jump in and work with Exchange on non-.NET platforms. As my team at work has been pushed to use Java over .NET and I have been moved to a MacBook, this Microsoft provided library has proven to be quite useful to me.
License Information
This work is subject to this BSD style license:
Copyright (c) 2014, Rion Carter
All rights reserved.
Redistribution and use in source and binary forms, with or without
modification, are permitted provided that the following conditions are met:
1. Redistributions of source code must retain the above copyright notice,
this list of conditions and the following disclaimer.
2. Redistributions in binary form must reproduce the above copyright notice,
this list of conditions and the following disclaimer in the documentation
and/or other materials provided with the distribution.
THIS SOFTWARE IS PROVIDED BY THE COPYRIGHT HOLDERS AND CONTRIBUTORS "AS IS"
AND ANY EXPRESS OR IMPLIED WARRANTIES, INCLUDING, BUT NOT LIMITED TO, THE
IMPLIED WARRANTIES OF MERCHANTABILITY AND FITNESS FOR A PARTICULAR PURPOSE
ARE DISCLAIMED. IN NO EVENT SHALL THE COPYRIGHT HOLDER OR CONTRIBUTORS BE
LIABLE FOR ANY DIRECT, INDIRECT, INCIDENTAL, SPECIAL, EXEMPLARY, OR
CONSEQUENTIAL DAMAGES (INCLUDING, BUT NOT LIMITED TO, PROCUREMENT OF
SUBSTITUTE GOODS OR SERVICES; LOSS OF USE, DATA, OR PROFITS; OR BUSINESS
INTERRUPTION) HOWEVER CAUSED AND ON ANY THEORY OF LIABILITY, WHETHER IN
CONTRACT, STRICT LIABILITY, OR TORT (INCLUDING NEGLIGENCE OR OTHERWISE)
ARISING IN ANY WAY OUT OF THE USE OF THIS SOFTWARE, EVEN IF ADVISED OF THE
POSSIBILITY OF SUCH DAMAGE.
The Microsoft Java EWS Library is subject to the license found here:
http://archive.msdn.microsoft.com/ewsjavaapi/Project/License.aspx

The Apache components are subject to the Apache license described here:
http://www.apache.org/licenses/LICENSE-2.0.html
Screenshots
Here are a couple of shots of what the program looks like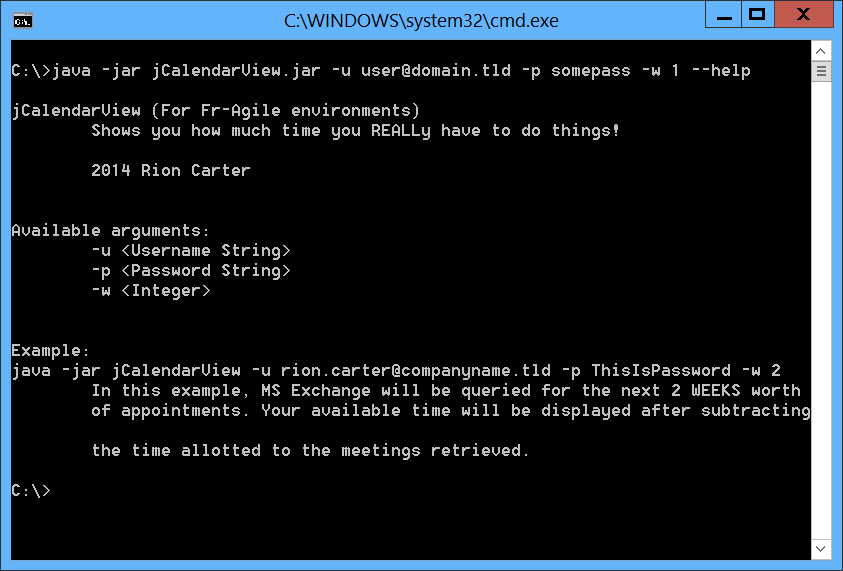 Prerequisites & How to operate
In order to run this software you must have Java installed and working on your machine. I developed against Java 7 update 51. If you use an older java edition YMMV.
Operating the program is pretty simple: Just specify your username and how many weeks in advance you want to forecast:
java -jar jCalendarView.jar -u bored@exch.boredwookie.net -w 1
If you want a help screen, just pass in the --help flag for more information on the available flags.
Download
The Eclipse project and the Jar executable are downloadable here: jCalendarView.zip
To get access to the jar, expand the dist sub-directory.